Dust, dirt, grime, and slime hide in places that we can't even imagine…places that are not visible to the naked eye.  Where are all of these pesky particles hiding? Brace yourself for what you are about to read, I am here to inform you where they may be and how to give them an eviction notice!
Helpful hints to clean up your dirty little secrets:
1.      Sponges– Most of us use sponges in our kitchens to do dishes and wipe counter tops, but a lot of people don't realize that sponges can carry "grimy germs" such as salmonella, and E. Coli! So if sponges are something you use frequently make sure you are properly disinfecting them! It's very simple, Mix ¾ cup of bleach with a gallon of hot water and toss in your sponges, let them soak for 5 minutes and then rinse and let dry! Studies show that this kills about 99.9% of germs!
2.      Drains– There is nothing like taking a nice hot shower after a long hard day, but little do most of you know that the dirt we wash away clings to our drains and builds up rather quickly! An easy way to make sure your drains are squeaky clean is; Take ½ cup of baking soda and pour down the drain, followed by 1 cup of vinegar, then cover the drain with a rag or wash cloth, wait about 10-15 minutes and then remove the rag. Finally run hot water down the drain and like magic your drain is clean and unclogged!
3.      Toothbrush– Your toothbrush is supposed to keep your mouth clean and bacteria free, right? In order to keep that statement true we must do a few simple things; don't keep your toothbrush on a sink that is close to your toilet! Airborne particles can inhabit in your toothbrush! Secondly after each use make sure your toothbrush is in an area where it can properly dry and not hold moisture for long periods of time! Lastly and the most important, replace your toothbrush frequently, especially after being sick!
4.      Towels– Yes it's true! You're only as clean as the towel you use to dry with! Towels that are stored in a humid area become a good friend to bacteria and odor! Reusing hand-towels can spread germs that you think you're washing away! So between uses launder your towels in hot water (if possible) and dry on high heat! As always a capful of bleach helps secure sanitation!
5.      Washer– We all wash our dirty clothes. What most of us don't realize is that some germs and dirt do stay behind in the washer and then we wash more clothes and the vicious cycle continues! In order to keep all of your clothing and linens as clean as possible it's recommended that you run an empty wash cycle with bleach at least once per month!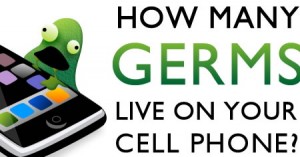 6.      Telephone– Throughout the day your telephone gets used about 7-10 times per day on average, the oils from our skin get transferred to the phone and through frequent use can become pretty funky! To clean your phone without damage to your handset all you will need is disinfecting wipes, cotton swabs, rubbing alcohol, and a dry towel. First wipe down the phone with your disinfectant wipe, then slightly moisten your cotton swab with rubbing alcohol; use it to clean the dirt from the nooks and crannies such as in between the numbers and around the caller ID window. Finally dry with your soft cloth and your good to go!
7.      Behind Appliances– Out of sight, out of mind- these are often neglected areas, but so necessary to clean! Pull them out and you'll be shocked at what you find! Begin by unplugging any plugs that may be hanging in the way and assess the "yuck" you find back there to determine your plan of action. Most likely you want to start by vacuuming the dust and dirt build-up. The hose attachment is especially helpful for this. Then wipe the surface clean of any food splatter, for messes that are caked on a Mr. Clean magic eraser may be a helpful tool! Last but never the least fill a small bucket with warm water and ¾ cup of bleach, again wipe down the surface. After letting it dry push appliances back to their respectable spots and you're ready for a dirt and germ free use!
What spots do you think are commonly forgotten about, but are havens for germs and illness??